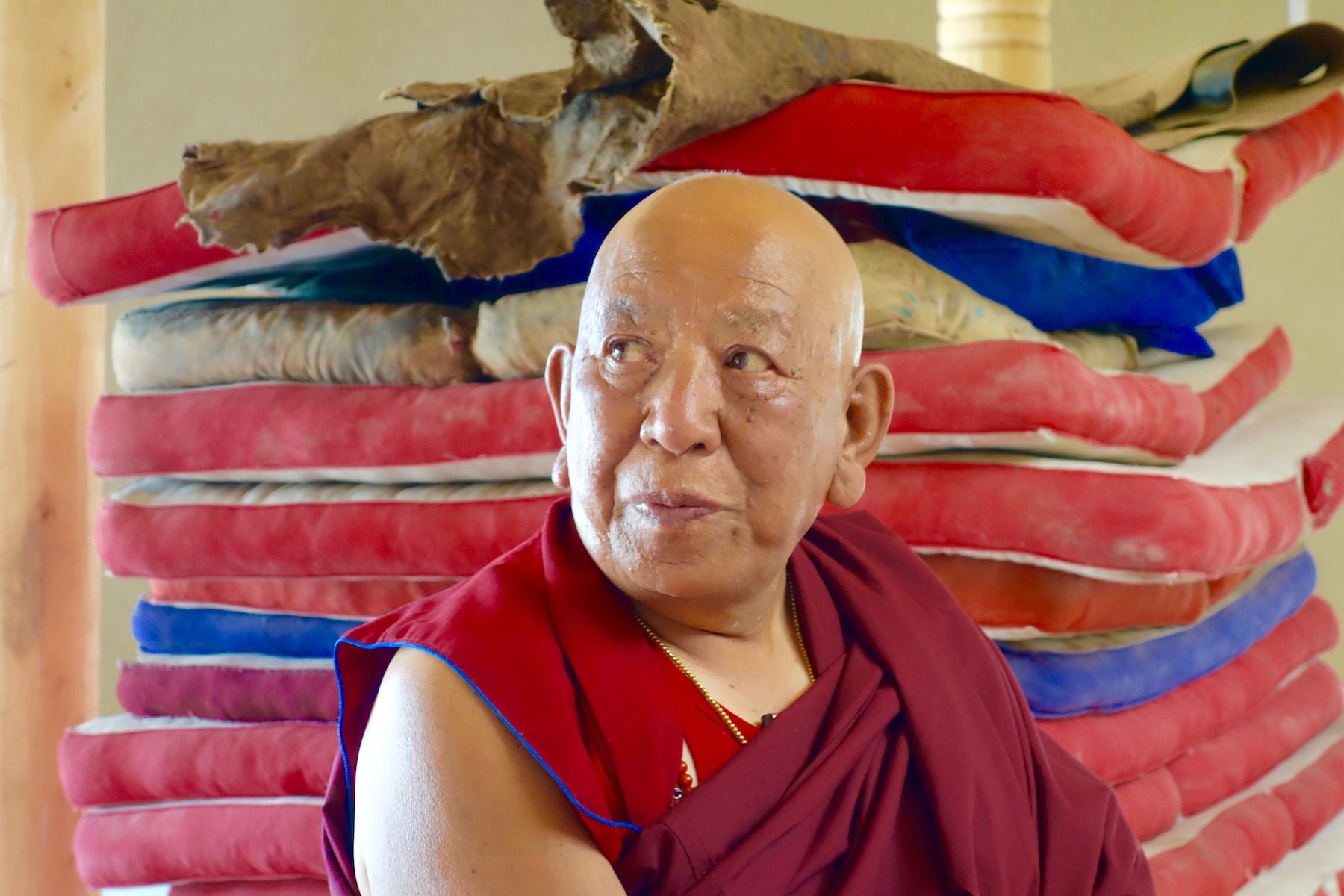 Ladakh Dharma King
His Holiness Togdan Rinpoche is the spiritual leader of Tibetan Buddhist in Tradition in Ladakh. The title Togdan means "endowed with realization". The previous Kyabgon Chetsang Rinpoche Shiwai Lodro recognized the young boy as the incarnation of Togdan Tulku when he was only 18 months old. Rinpoche was born into a poor family of Konchog Tsultrim and Kelsang Dolma in 1939 in Durbuk, a small village situated 110 km east from Leh in Changthang. Only a few months later the young Rinpoche lost his mother and was taken care of by his aunt. At the time of his mother's death, the family goat gave birth to new offspring and Rinpoche could drink its milk. Having been recognized by the 36th H.H. Kyabgon Chetsang as the 9th Togdan Rinpoche, Rinpoche was given the leadership of the unbroken Drikung tradition in Ladakh. This included the responsibility for over 50 monasteries and the cultivation of the Drikung tradition in the region. 
Having first lived a monastic life for 15 years, and then following the Bodhisattva training for almost 20 years, Rinpoche became a Yogi at the age of 39 after having become a widely recognized spiritual master. Today, 40 years later, at 80 years of age, Rinpoche's achievements make him a model example for the dharma practitioner of the modern times; attaining excellence in both worldly and spiritual life. Rinpoche has been referenced to in many popular books and have appeared in two documentary films about Tibetan Buddhism. Rinpoche's complete name is H.E. 9th Choje Togdan Rinpoche, Terton Rigched Dorje, Konchog Tenzin Thupthen Tenpei Gyaltsen and he is the Dharma Lord (Choje) of Ladakh. He and his lovely wife Lha-cham have raised a Dharma family of two sons and three daughters.
Training
In 1951, accompandied by his teacher Gegen Sonam, the young Rinpoche traveled through Sikkim over three weeks on horseback making his way to Drikung Thil Monastery in Tibet There he started his training, receiving teachings from many renown spiritual masters and completing many retreats. From 1954-1959 he studied at the philosophical school of Drikung Nyimai Changra at Medro Gongkar. In 1959 when China took control of Tibet after nearly a decade of occupation, accompanied by his teacher and many Ladakhi monks, he came back to Ladakh.
While still in Tibet, Rinpoche was captured by the Chinese and kept detained for about a month, after which he was released by the Chinese government together with other Ladakhis and sent off to the borders of India to return to Ladakh.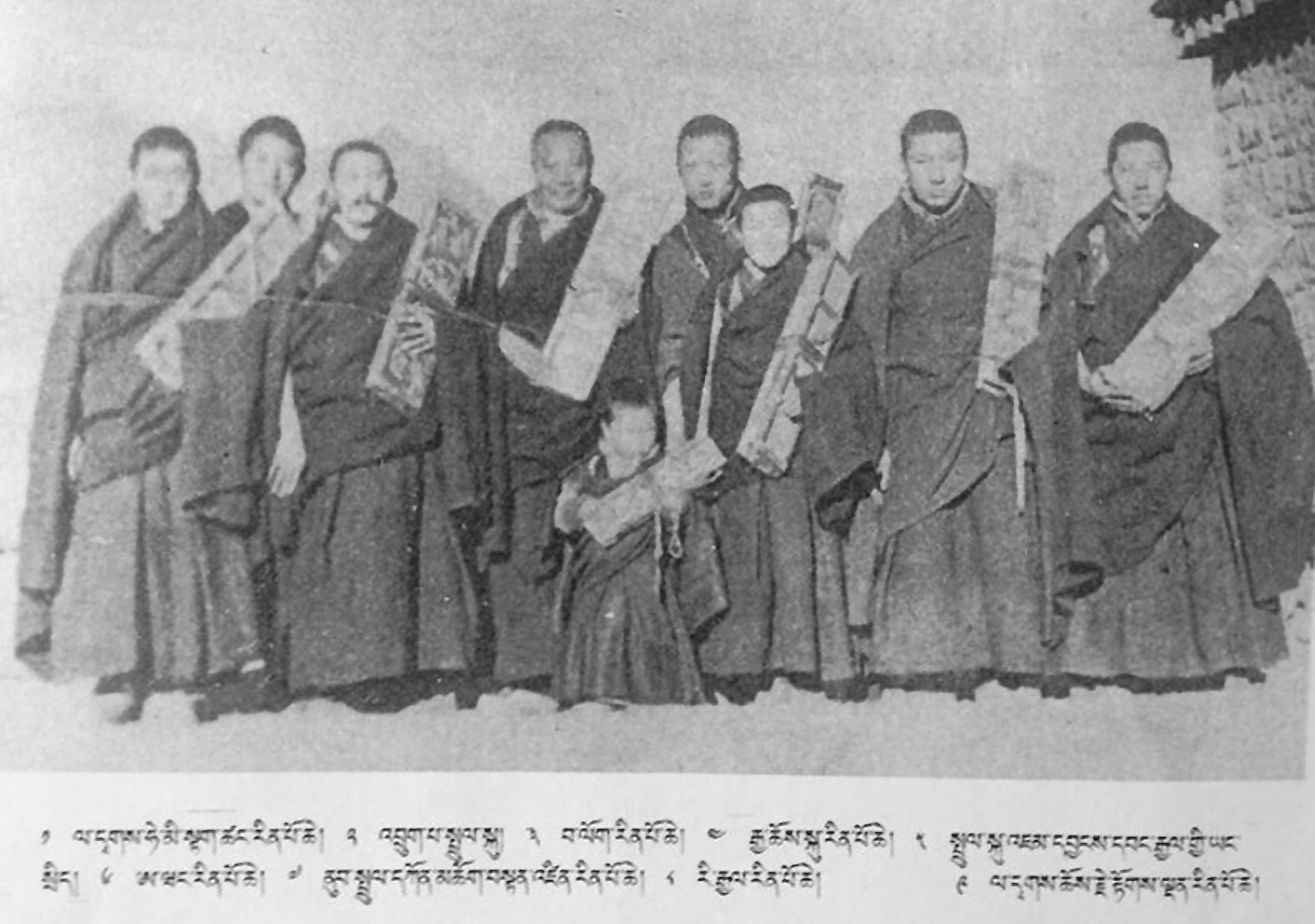 In the beginning of 1967, Rinpoche arranged for the Rinchen Terzod empowerment to be given at Tso Pema, which means Lotus Lake in Tibetan. Found in a small hill-station of Rewalsar in the foothills of the Indian Himalaya, Lotus Lake is one of the most sacred places of Guru Padmasambhava.
There H.H. Dudjom Rinpoche gave the empowerment to an assembly of 30 tulkus and thousands of people and consequently initiated Togden Rinpoche as his successor for imparting this great empowerment of Rinchen Terzod. Dudjom Rinpoche is widely considered as one of the greatest Buddhist Masters of the 20th century.
Rinchen Terzod, the Treasury of Precious Termas, is one of The Five Great Treasures of Jamgon Kongtrul the Great and is said that it takes months to completely receive the oral transmission and empowerments.
Having completed his first one month retreat at the age of 11, Rinpoche has spent extended times in retreat, including a traditional three-year retreat. Rinpoche is a renowned Buddhist scholar with a profound experiential understanding of the Dharma and holds the transmission of a vast array of teachings from Drikung Kagyu, Drukpa Kagyu and Nyingma Traditions.
Political Life
Over the past 50 years, Rinpoche has been a leading Buddhist and community leader in Ladakh. Having understood the importance of the connection between modern education and spiritual development, Rinpoche is known for having established spiritual curriculums and sent countless Ladakhi young people to go for higher education in Jammu and Srinagar.
In 1967 as Chairman of the Ladakh Action Committee, Rinpoche led a movement that resulted in J&K state government accepting demands put for the benefit of Ladakhi people. Kushok Bakula Rinpoche, the president of the Ladakh Gonpa Association at that time, presented a memento to Rinpoche on behalf of himself and the Ladakhi people to show gratitude and respect.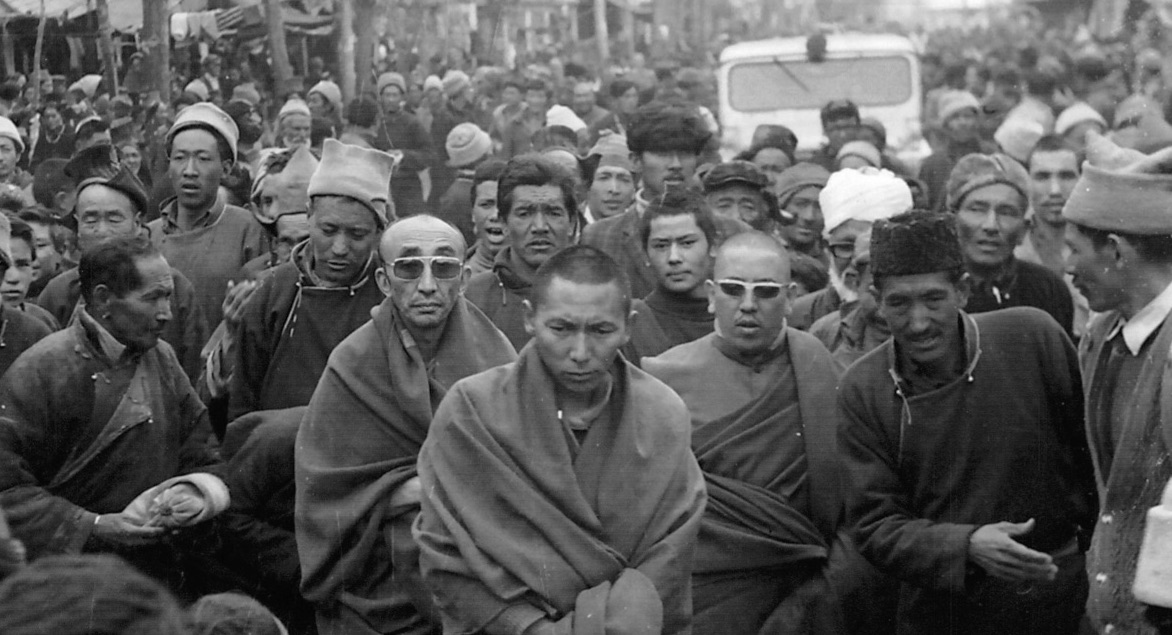 Rinpoche has acted in various capacities as a political authority and a decision maker; such as the Vice Chairman of the Ladakh Development Board and a J&K State Minister from 1973 to 1976, From 1972 to 1975, Rinpoche was also the President of the Ladakh Gonpa Association, and represented Ladakh in international Buddhist conferences in Taiwan, Spain, Germany Switzerland and France.
From 1996 to 2002, Rinpoche was Minister of the State of J&K for two ministerial portfolios – Planning and Ladakh Affairs. He managed to successfully lobby for the increase of the state development grant to Leh constituency by 39% from Rp 23 crores in 1996 to Rp 32 crores in 1997. In his role as the a State Minister, Rinpoche proposed plans for major infrastructure projects including hydro power stations, road construction, airstrip construction and the opening of the Kailash-Mansarovar pilgrimage route.
"A yogi thrives to put end to suffering that is found in cyclic existence. In order to do that, the yogi or yogini will have to train his or her mind. Simply put, a yogi or a yogini will strive to encounter all the negative emotions, and create positive ones."